Leave a Legacy You'll Love
We help you produce faith-promoting works of non-fiction, personal development and family history.
"Here's the thing. The book that will most change your life is the one you write." --Seth Godin
Dark Days and Silver Linings:
Rewriting Our Hardships to Brighten Tomorrow
A gift for yourself or others who are struggling, whatever the cause.  A beautiful writing tool and video tutorials to capture, make sense of and find purpose in our trials.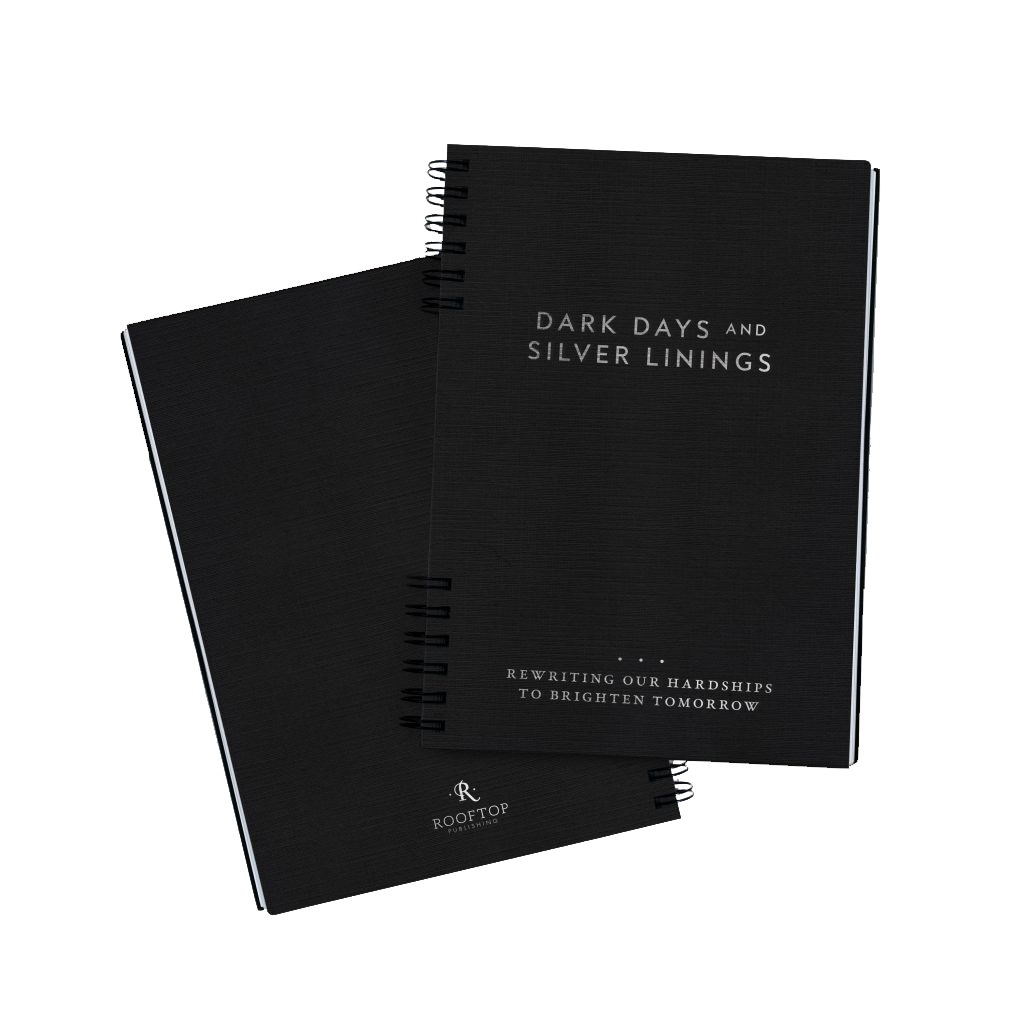 Why Work With
Rooftop Publishing?
We offer author consultations and project packages to help you
–no matter where you are on the publishing journey–
to bring your book to completion in bookstore-worthy fashion.
Keep the
Creative
We allow our authors to have as much input and direction on the typesetting and cover design as desired.
Confidence in Editing
We provide an early evaluation of the manuscript and proofing before the publication of any accepted works.
We Handle
Details
We specialize in smoothing out the inevitable publishing bumps and timelines, so you can focus on the creative.
Honor Your
Offering
We preserve the life-long learning, stories, photos and spirit of your message and legacy.
Assigned Publishing Assistant
We provide a one-point-of-contact guide for you in this hybrid publishing journey.
A Stunning Presentation
Our professionals ensure that your legacy receives much more than a spiral binding at the local copy store.
Let Us Show You the Potential of the Legacy You Can Leave
Browse the titles of the books, audiobooks, ebooks,
and other offerings we have created with our authors.
"These things write we unto you, that your joy may be full." -- 1 John 1:4
The creation of a small publishing company was not the original goal.  
In the beginning, we were simply a group of four writers who were on a mission to get our passions and personal ministries out in book form.  
As professionals from varied fields, we had written everything from master's thesis', marketing materials, websites, manuals, books, curriculum, presentations, articles, children's books, newsletters, family histories, and years and years' worth of personal journals.
But we each felt we had a book in our hearts that just begged to be written.
In 2018 we formed an accountability group to share our ideas, resources, connections, feedback, and enthusiasm for one another's pet projects.  
Within five months we were shocked and humbled at what we were able to accomplish individually by using our weekly group meetings. 
When we tired of referring to one another as "my accountability group," we became From the Rooftops. The name matched our natural enthusiasm for sharing our Christ-centered messages in a big and beautiful way. 
Not wanting to keep the synergy and excitement to ourselves, we decided to share our success story in a combined book Collective Brilliance:  Spark Ideas, Build Faith, and See Your Ministry in a Whole New Light.
Much of what we had seen in the publishing world lacked the spirit of our messages, and some traditional publishers either wanted their authors to come with a following or to control when and how the books came together.  
Self-publishing or printing companies could work with us on our paper and print needs but weren't able to guide us on the content and branding of our projects.
While we didn't need our books to become bestsellers, we did require them to be filled with excellent content and presented in an attractive and professional way. 
Our books would be part of our personal legacies and we were committed to putting in the time and resources to make sure they reflected our best work.
With that Rooftop Publishing was born.  We knew how to assemble a like-minded team and identified attorneys, accountants, digital marketers, graphic designers, illustrators, typesetters, printers, and editors who were also inspired by the mission to produce books that built faith in Christ.
Since that time we have published our own works, conducted writer's workshops, created writing tutorials and online courses and helped other writers realize the dream of holding their legacy in their hands.
Our mission is to help you get your message out to the world.  Whether that's just printing enough copies to go under the Christmas trees of family and friends, or using it as a tool to launch your personal brand and ministry. 
We exist to help you and your story build faith in your readers.
All yours,

Stephanie Francom
Roxanne Thayne
Gigi Turley
Christine Van Wagenen
We'd love to hear a little about you and your project: